CHAIR: Nick Baillie is currently programme director: implementation and engagement at the National Institute for Health and Care Excellence (NICE). NICE produce evidence-based guidelines and quality standards across social care, public health and health care sectors in England.
When NICE's role in social care was formally established in 2013, Nick had a role working on some of the first guidelines and quality standards, agreeing a library of social care topics and building the organisation's relationships with key partners in the social care sector.
In his current role, Nick is responsible for work to engage key national partners in NICE's work, support implementation of guidelines and assess their impact. This includes a broad range of topics across social care, with a particular interest in the interface of social care and health care. Key areas of work include embedding evidence based guidelines in the quality improvement frameworks and regulation of the social care system.
Prior to working at NICE, Nick worked in a variety of quality improvement and governance roles across the public sector and holds a masters degree in health services research.
Sophie Albert holds a PhD in international law from the Sorbonne University. She has worked for international organisations (Council of Europe, UNHCR, UNU, UN) and held several positions as policy advisor for the French government in the field of asylum, human rights, global health and health insurance. The protection of vulnerable populations, access and defence of their rights is the common thread of her professional career.
She previously served as Deputy Head of the Global Health Office at the Ministry of Health and as Advisor to the Ambassador for Global Health. Since 2021, she is the Director of International Affairs at the French National Authority for Health (HAS). She coordinates and supports all the international cooperation actions of the HAS in the fields of competence of the institution: improvement of the quality and safety of health and medico-social care and services, evaluation of health care procedures and technologies for universal health coverage, involvement of NGOs, patients and users, recommendations of professional practices, to enlighten professionals and in the interests of patients and users. In this context, she represents the HAS on the INSIA board.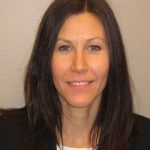 Rigmor C Berg has a PhD in Health Promotion and Behavior, from the University of Georgia (USA). She works with evidence-based practice, HIV-prevention research and topics related to sexual health and equality. She is professor at UiT The Arctic University of Norway, and Department Director at the Norwegian Institute of Public Health.
As Department Director, Rigmor is responsible for and supervise a range of projects including implementation of machine learning into systematic review processes. Her responsibilities also include personnel management, budget, and collaboration with Norwegian policy makers. Rigmor has authored about a hundred systematic reviews, including qualitative evidence syntheses, mapping reviews, rapid reviews, evidence and gap maps, and other systematic reviews.



Marie-Claude Sirois holds a bachelor's degree in psychology from Université Laval (1995), a master's degree in psychoeducation from the Université du Québec en Outaouais (2002), for which she was awarded the Governor General's Gold Medal, and a master's degree in administration science – Management and development of organizations from Université Laval (2009).
Initially a clinician working with children in need of protection, young people and families in difficulty, as well as adults with mental health problems, she continued her career as a manager in the health and social services network from 2002, notably as Director of Professional Services and Quality at the Centre jeunesse de l'Outaouais and Director of Multidisciplinary Services at the CISSS de l'Outaouais. She has also been involved in various organizations, including as Chair of the Multidisciplinary Council and member of the Board of Directors of the Agence de la santé et des services sociaux de l'Outaouais, as a founding member of the Executive Committee of the Laboratoire de recherche interdisciplinaire sur les droits de l'enfant at the University of Ottawa, and as a member of the Board of Directors of the Ligue sur le bien-être des enfants du Canada (LBEC/CWLC). Ms. Sirois has been working at INESSS since 2017, where she currently holds the position of Director of the Directorate of Evaluation and Support for the Improvement of Intervention Methods in Social Services and Mental Health. Since 2019, she has contributed to the creation of the International Network of Social Intervention Assessment (INSIA) to support networking, international collaboration and methodological development.
Sofia Tranæus is adjunct professor in Health Technology Assessment, associate professor in Clinical Oral Sciences and Head of Department for Social Affairs at the Swedish Agency for Health Technology Assessment and Assessment of Social Services (SBU). SBU has been synthesizing research within the health sector since 1987. In 2015, SBU was commissioned to include social services in the agenda and Sofia Tranæus was responsible for the introduction and implementation. She has also been responsible for the agency's work on research gaps since 2009. Her previous work includes 15 years as researcher at Karolinska institutet, and 15 years at SBU. The latter research has been focused on assessment of clinical and practical research.